Types of Funds
BMCF has an array of funds to choose from, one of which is likely to achieve your philanthropic goals. These are either donor-advised funds or permanent funds dedicated to the community at large, to specific charities or nonprofits, or to specific fields, such as health, education or the environment.
Permanent endowment options include: Designated funds, Discretionary funds, Field of Interest funds, Scholarship funds, or Sustaining Funds for BMCF operations.
Shorter-term funds are donor-advised funds. Although donor-advised funds may be endowed, they are intended to give donors the flexibility of making an initial large gift, and then pay out to other nonprofit organizations and charities when needed as recommended by the donor.
What is an agency fund?
A qualified charitable organization (agency) transfers assets to Blue Mountain Community Foundation (BMCF) to create a long-term endowment fund or a short-term reserve. These funds are fully invested by BMCF and the organization itself receives the annual distribution or grant from the fund. Only charities may create an agency fund.
Note: Individual donors may give to a fund at BMCF to support a particular charity but may not donate directly to an organization's agency fund.
How does an agency fund work?
This graphic illustrates how agency funds work.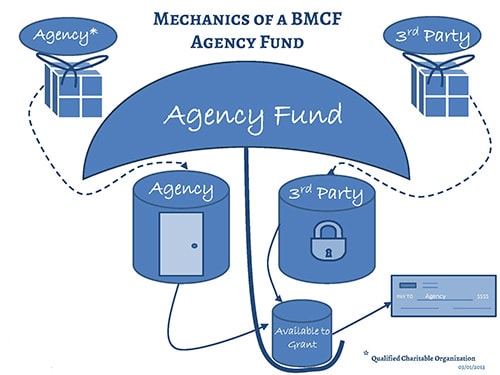 People interested in providing annual support to one or more charities or nonprofit organizations may do so by creating a designated endowment fund. The charity or charities you choose to support will receive an annual grant in perpetuity without having to submit a proposal or submit reports about its use of the funds unless you desire it. You and others can add to the fund at any time.
The community foundation is familiar with the charitable sector in the region and monitors its grants and grant recipients. At the time you establish your fund at BMCF, we will discuss what would happen in the event the charity you designated no longer exists or changes its mission.
A gift to establish a discretionary fund helps meet the changing needs of the Blue Mountain area, now and in the future. Discretionary funds broadly support the well-being and vitality of the Blue Mountain area and its residents and are distributed to qualified organizations seeking support through the Foundation's grant-making program.
When you establish a discretionary fund, you leave decisions about the use of your gift to the Foundation, relying on the Foundation's extensive experience and reach within the community to know where grants will have the greatest impact.
A "Field of Interest" fund helps people support their town, county or an issue that is important to them. Some examples include education, the arts, health, and the environment. These funds provide annual support in perpetuity for the specific town, county or issue while leaving the selection of the specific purpose of the individual grants to a local advisory committee. Field of Interest funds are truly examples of "local wealth under local control for the good of the community."
Donors specifically interested in promoting education often establish scholarship funds. Scholarships may support any level of education and can be directed toward students attending a particular school, studying in a particular field or coming from a particular geographical area. Establishing a new scholarship fund requires an initial $25,000 minimum investment.
Blue Mountain Community Foundation administers the fund within the tax laws regarding scholarship grants, publicizes the scholarship and chooses scholarship recipients. The Foundation also can establish selection criteria.
Donors may wish to set up a sustaining endowment fund for the long-term operation and efficiency of the Blue Mountain Community Foundation. Grants from this fund go directly to supporting programs that encourage donors to invest in the Blue Mountain area and ensure that dollars are used to enhance the long-term economic and social vitality of area communities.